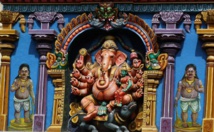 The 15th-century Babri mosque in the northern town of Ayodhya was pulled down by Hindu fanatics in 1992, sparking widespread riots in which more than 2,000 people died.
Hindus claim a temple to their god Ram predated the mosque and want to build a new one at the site, while Muslims want a new mosque.
The court, hearing the case over disputed rights involving 2.77 acres, set up a three-member mediation panel led by retired Supreme Court judge Ibrahim Kalifulla, said Vishnu Shankar Jain, a lawyer for the Hindu Mahasabha, which is among the main parties in the title dispute.
Hindu guru Sri Sri Ravi Shankar and senior lawyer and mediation expert Sriram Panchu were named as the other two panel members by a five-judge bench led by Chief Justice Ranjan Gogoi.
The mediation will remain confidential and the media will be barred from reporting on the proceedings, Jain told reporters outside the court.
The dispute is among the most divisive issues in India in recent decades.
After lower courts heard the case for several years, the Supreme Court took up the matter in 2011, when it suspended a high court ruling that the disputed site be split into three parts, with one portion going to Muslims and the other two to Hindus.
Hindu and Muslim groups challenged the verdict and appealed to the Supreme Court, which criticized the ruling and said the high court overstepped its authority by ordering the partition.