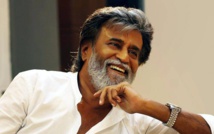 Rajinikanth
Chennai is the capital of movie-mad Tamil Nadu state, which has had three chief ministers from the film industry.
Rajinikanth, 67, has starred in hundreds of films, often as a superhero crusader against corruption and evil. He has a cult-like following, with fans and fan clubs spread across both Tamil Nadu, and in far-flung areas including Japan.
"I am joining politics because it is the need of the hour," Rajinikanth said Sunday at the end of a six-day event to meet fans who had gathered in thousands, some of them waiting overnight, in frenzied anticipation of an announcement.
Sunday's announcement was focused on state politics, but he left open the door to a national campaign at some point.
Rajinikanth's decision to join politics comes at a time when Tamil Nadu is in political flux after the death of its former chief minister, J Jayalalitha, in December 2016, just seven months after she took office.
Jayalalitha's AIADMK party is riven by an ugly battle for power between factions and has split. The main opposition DMK is weak, with an ageing leader in K Karunanidhi. A former chief minister, Karunanidhi used to be a scriptwriter for Tamil films.
"I am not doing this for any post. I do not come for money or fame, as I have them enough. But the politics has become so bad that rest of the world is laughing at us," Rajinikanth said in Tamil. "I am not a coward, so I have to step in."
Rajinikanth said politicians had been robbing the country and invited his fans to be watchdogs, saying he would be the head watchdog and, together, they would keep an eye on all that was going wrong.
"If I come to power and am not able to deliver in three years, I'll resign. Democracy is in a state of distress in the state," he said.
Scotching rumours that he may be joining one of the mainstream political parties, Rajinikanth said he would be floating his own party, which is to contest all the seats in the next elections for the Tamil Nadu state assembly, scheduled in 2021.
Rajinikanth's fans have long been demanding his entry into politics, but the recent political uncertainty in Tamil Nadu had added an edge to their demand.
Rajinikanth has more than 55,000 fan clubs across the world, according to Rinku Kalsy, who has made a documentary on the actor's fans. They range from businessmen to housewives, from students to daily wage labourers.
Many of the fan clubs are involved in social and charitable activities. "They will now add to these the quest for political power," said Tamil Nadu watcher and political commentator Sudha G Tilak.
Critics doubted whether the superstar, affectionately called "Thalaivar" ("the Boss" in Tamil) by fans, would be able to make a difference.
"He has no political experience, my opinion is he will be a disaster, only the future will tell what he is capable of," GS Gita, a leader of the AIADMK said.