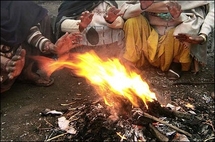 Police have registered a case against the school principal and 16 others, the report said.
The cold weather has caused many schools in India to extend their winter break by at least a week.
Dozens of international and domestic flights to and from New Delhi were cancelled, delayed or diverted on Tuesday due to thick fog, while Indian railways said at least a dozen services had been cancelled.
-----------------------------
Image of people warming up around a bonfire, from AFP.