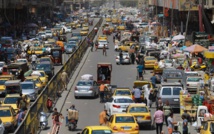 Interior Minister Othman Al-Ghanmi has given directives for security forces to intensify their efforts to find her, ministry spokesman Saad Maan told dpa.
Hella Mewis was kidnapped by armed militants on Abu Nawas Street near the Bait Tarkib art collective at around 8 pm (1700 GMT) on Monday, Ali al-Bayati, a member of the semi-official Iraqi High Commission for Human Rights, wrote on Twitter.
Another activist, who asked to remain anonymous, told dpa that Mewis disappeared after she left her house in the Iraqi capital and that her mobile phone was unreachable.
The German Foreign Office has not yet confirmed the kidnapping.
Mewis was born in Berlin and has lived in Baghdad for several years, where she worked on establishing the Bait Tarkib collective, which aims to promote the work of young Iraqi artists.
Political Islamism experienced a revival in Iraq after Saddam Hussein's dictatorship was toppled in 2003, with non-religious art often criticized as "haram" (forbidden).
Najem Wali, an Iraqi writer novelist who lives in Germany, described Mewis in a 2017 interview with the Spiegel news magazine as a woman who broke Iraqi conventions, for example by visiting cafes, wearing her hair down and only seldom wearing a headscarf.
In 2016, Mewis organized a women's bike demonstration along the river Tigris in Baghdad.
She is said to have political contacts in the country and be well established there.