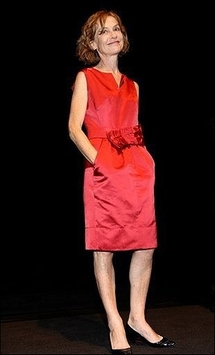 "Cannes is a open door to all the new ideas in the world," added Huppert, who picked up best actress Golden Lions for "Violette Noziere" in 1978 and in 2001 for "The Piano Teacher".
"To offer the presidency of the jury to an actress such as Isabelle Huppert is to pay tribute to someone who has put her popularity to the service of artistic cinema, who has worked with young directors and admiring foreign filmmakers," the festival's delegate general, Thierry Fremaux, told AFP.
Huppert, who has acted in 80-some films, 14 of which competed in Cannes, has also previously served on the jury.
She will be the fourth woman to head the panel, joining Liv Ullmann, Jeanne Moreau and Francoise Sagan.
Born in 1953 in Paris, Huppert began her acting career on stage and made her breakthrough on the big screen in 1974 in "Going Places".
She has made several films with the French master of mystery films, Claude Chabrol, including "Violette Noziere", for which she was awarded her first Golden Lion.
Huppert has also worked with top foreign directors, such as Michael Cimino, Joseph Losey and Marco Ferreri.
She has won numerous awards, including a special career achievement award at the Venice film festival in 2005, best actress at the Berlin film festival in 2005, a best actress French Cesar in 1996, and a newcomer BAFTA in 1977.
The 62nd edition of the Cannes Film Festival takes place May 13 to 24.
----------------------
Image of Isabelle Huppert by E. Rodriguez.