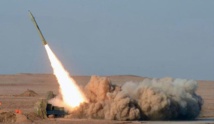 The Arrow-3 is designed to intercept ballistic missiles outside the atmosphere.
"The success of the experiment constitutes an important milestone in the state of Israel's operational ability to defend itself against current and future threats in the region," the Defence Ministry said in a statement.
The Arrow-3 system is part of a mutlti-level defence system to defend against short-range, medium-range and long-range missiles. These defences include the Iron Dome, the Magic Wand and the Arrow 2 systems.
The Arrow is a more far-reaching interceptor missile that could fend off attacks from Iran, for example.
The test was pre-planned, but it comes a day after Israel said it targeted Iranian military forces in a series of night-time attacks on neighbouring Syria.
Israel said the attack was retaliation for an Iranian missile attack on the Israeli-controlled Golan Heights, which was intercepted by the Iron Dome system.