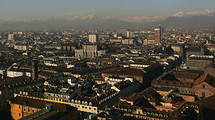 He was arrested a few days ago, while his son, 41, has been in police custody since last month accused of raping his four daughters, Forno said.
Both the father and the son have strongly denied the allegations against them, the ANSA news agency reported.
Erroneous press reports, giving the older man's victim the pseudonym Laura, earlier said he had imprisoned his daughter.
Fritzl received a life sentence last week for the repeated rape of his daughter over 24 years during which he kept her in an underground hideaway and fathered seven children with her.
Forno said Laura "was strictly speaking free, though she did nothing without her father, who completely dominated her psychologically."
Laura was the eldest of 10 children, Forno said, adding that "according to a family rule, the eldest daughter was reserved" for the father, a native of southern Italy.
"The young woman is suffering from personality disorders because of the prolonged incestuous situation and mistreatment," he added.
"A psychiatric evaluation has determined that the situation was one of very serious distress."
Laura had a "totally passive personality before her father, who made her live in a climate of threats," Forno said, adding that she stayed in a dark room and had not been to school since she was 13 years old.
The mother was part of the household, which was home to three of the other children including one with a physical handicap.
"It appeared to be a normal family," Forno said, adding that no evidence of abuse towards the other children had emerged.
The father's other children, eight boys and a girl, defended him.
"My father never touched us. I kiss the ground where he passed," said the victim's sister, quoted by the Ansa news agency.
The father "passed his behaviour on to one of his sons," Forno said.
The son is accused of having raped and abused his four daughters, now aged six, 12, 17 and 21, and forcing them to watch the sex sessions.
The investigation began last October, when Laura lodged a complaint against her brother, accusing him of holding her prisoner and raping her for two weeks after she fled to his home following an argument with their father.
The probe involved phone taps on the family home and the use of electronic listening devices.
The five alleged victims are under psychological care at a shelter.
---------------------------------------------------------------
Image from news.sky.com.