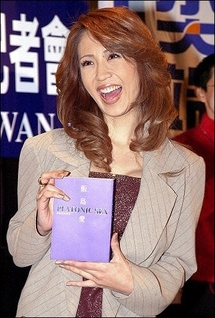 The body of the 36-year-old, who retired in March last year from a lucrative career as a television personality, was found lying in the lounge of her condominium in downtown Shibuya by a friend.
"There were few signs of foul play. We will conduct a post mortem tomorrow to determine if the cause of her death was an illness, suicide or something of a criminal nature," a police spokesman said.
Iijima, who was also known in the rest of Asia, gained popularity at home as a straight-talking character since her debut on television variety shows in the 1990s.
Her AIDS awareness campaign started around the time she published the autobiographical "Platonic Sex" in 2000, describing her younger days as a porn actress and club hostess.
The book has sold some two million copies and been made into a movie and a television drama.
Citing kidney problems and a lack of motivation, Iijima retired from the show and television business world but continued her AIDS campaign.
"In Japan, HIV-positive patients are increasing year by year and many people's lives are lost," she wrote on her blog on December 2. "Is your boyfriend alright? Is your girlfriend alright? Why don't you take an AIDS test to know yourself."
She stopped writing her blog on December 5 and was seen at an AIDS seminar in a provincial city the following day.
In a recent interview with the weekly Asahi, Iijima said she had just borrowed money from an investment back and would "open a shopping site dealing with cosmetics."