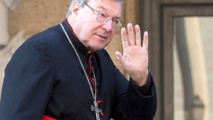 Ex-Vatican treasurer Pell was sentenced in March to six years in prison for sexually assaulting two choirboys. Reporting on his legal proceedings in any format accessible in Australia was banned under a court suppression order last year to prevent a second trial - which was later dropped - from being influenced by the first trial.
State prosecutors hold that the journalists did not fully follow the court suppression order and allege that the media outlets and journalists prejudiced and interfered with "due administration of justice."
The journalists face prison or a fine for contempt of court, aiding and abetting overseas media, breaching a suppression order, and for publishing materials that "had the effect of scandalising the court."
The state of Victoria's director of public prosecutions has named 23 journalists, news editors, radio and television hosts and 13 media outlets in the legal proceeding. None of those facing the allegations appeared at the court. They were represented jointly by two lawyers.
"The proceedings raise very serious allegations against 13 media organizations. It is as significant as it gets in terms of convictions," lawyer Matthew Collins, who is representing the media, told the court on Monday, according to The Age newspaper. The paper's news editor is among those facing charges.
"We can find no precedent for charges of this kind in Australian law," Collins said, adding that lawyers were not aware of any cases in Australia where editors or journalists have been found guilty of such charges.
He argued that the respondents are not "fringe" media outlets and "have no history of deliberately breaching orders of the court."
According to the court, there could be multiple trials. The next hearing is slated for June 26.
Presiding Justice John Dixon has ordered the public prosecutors to provide detailed statements of their claims to journalists and editors regarding the allegations to make it clearer what they are facing.
The journalists are required to file their responses by June 21.
News Corp, owned Australian-American media mogul Rupert Murdoch, said it would "vigorously defend all charges and resolutely stand by our editors and journalists."
Once a close adviser to Pope Francis, 77-year-old Cardinal Pell was found guilty in December of raping a choirboy and molesting another in the mid-1990s at St Patrick's Cathedral when he was archbishop of Melbourne.
He is the highest-ranking Catholic official to be convicted and sentenced for child sexual abuse.
Immediately after Pell's trial, some non-Australian media outlets published the guilty verdict, not waiting for the suppression order to be lifted. The order was lifted on February 26, 11 weeks after the trial.
Most Australian media did not report anything initially . But some local media alluded to the verdict, none of which named Pell or identified the charges he was found guilty of.
News Corp city tabloids Daily Telegraph and Herald Sun wrote on their front pages that they have been "censored" when it came to "the nation's biggest story."
No non-Australian media have been named in the court proceedings.
Breaches of suppression orders can be punished with jail for up to five years and fines of nearly 100,000 dollars (71,000 US dollars) for individuals, and nearly half a million dollars for companies.
Notepad