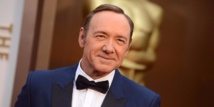 Spacey has been replaced in the thriller "All the Money in the World," slated for US release on December 22, with Canadian actor Christopher Plummer to re-shoot scenes as the character J Paul Getty, Deadline reported.
Scott and producers Dan Friedkin and Bradley Thomas from Imperative Productions had joined the film's cast and crew in unanimously deciding to drop Spacey and re-shoot his scenes, it reported.
It followed the decision by Sony Pictures – a production partner of the film – to withdraw the film from the closing night of the American Film Institute Festival.
Imperative Productions did not respond to request for comment, while a representative of Scott's RSA Films in Los Angeles said she was unable to confirm that Spacey had been replaced by Plummer.

The film is based on the real-life 1973 kidnapping of John Paul Getty III and subsequent rescue efforts which are affected by his grandfather (Plummer) refusing to pay a ransom.
Wednesday's decision follows multiple allegations of sexual misconduct against Spacey, including accusations by Anthony Rapp, Tony Montana, Roberto Cavazos and Richard Dreyfuss' son Harry Dreyfuss.
Earlier in the day, the journalist Heather Unruh said that Spacey had sexually assaulted her then 18-year-old son in a Nantucket restaurant last year.
Last week, Netflix announced it was severing ties with Spacey, who stars in its popular series, House of Cards.