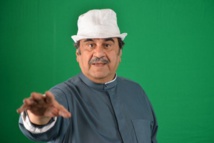 Abdulredha, a leader in the Gulf drama industry, passed away late Monday in a London hospital where he had been receiving treatment, the agency added without details.
Days ago, he was hospitalized while he was in London after suffering a stroke, Kuwaiti newspaper Al Watan reported. He later went into a coma.
With an acting career spanning more than five decades, Abdulredha performed in dozens of television serials and stage shows that mostly addressed Arab social and political affairs.
He gained fame in the Arab region after he portrayed Saddam in the 1992 stage satire "Sword of Arabs."
In 1990, Saddam invaded Kuwait. A US-led campaign later dislodged Iraqi forces from the oil-rich Gulf emirate.