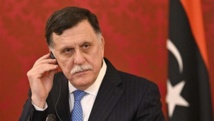 al-Serraj
The country currently has two competing administrations: al-Serraj's Government of National Accord (GNA) based in the capital Tripoli and a government based in the eastern city of Tobruk which is allied to the military strongman Haftar.
Haftar's forces have been battling since April to seize Tripoli from al-Serraj's government backed by the United Nations, prompting global efforts to stop the feud in oil-rich Libya.
"Long experience makes us doubt the intentions, seriousness and commitment of the other side, whom everyone know seeks powers at any price," al-Serraj told dpa in an email interview, without naming Haftar.
The Berlin conference aims to bring together Libya's main rivals and their foreign supporters. The event due later Sunday comes days after talks on Libya held in Moscow did not yield significant progress.
Haftar left the Moscow talks without signing a ceasefire deal proposed by Russia and Turkey.
"He refused to sign the Russian-Turkish initiative although he had already known about its items before he went to Moscow," al-Serraj said without giving details.
Al-Serraj vowed to "defend" Tripoli should the Berlin conference end inconclusively and Haftar resume his campaign for the city.
"If the aggression resumes, we will continue to defend ourselves strongly until it is routed. We haven't attacked anybody. The right to defence is legal," the ex-lawmaker added.
Turkey supports al-Serraj's government and has dispatched troops to bolster it, triggering fears of a regional conflict in Libya.
In November, al-Serraj and Turkish President Recep Tayyip Erdogan signed controversial security cooperation and maritime boundary pacts.
Al-Serraj told dpa that the deal included "no concessions" nor did it infringe Libya's national sovereignty.
"We are working in the light and have nothing to hide. We did not make concessions to anyone. We have no foreign bases," he added.
"There is a misunderstanding of the two memoranda of understanding that we signed with Turkey," he said.
"The first aims at protecting the two countries' maritime rights according to international law. It preserves Libya's sovereignty and protects its wealth. Consultations on it started in 2010. Anyone who objects to it has the right to go to the international courts," al-Serraj said.
"As for the security memorandum, we think Turkey and Libya have the right as independent and internationally recognized countries to conclude any agreement they see appropriate for their interests."
Greece, a European Union member, opposes the pacts, under which Ankara and Tripoli divided their zones of influence and interest in the Mediterranean.

Athens insists that the deal violates international maritime law and encroaches potential gas fields south of Crete. Cyprus, Israel and Egypt also see their interests violated by the agreement.

Turkey has allegedly sent hundreds of allied fighters from Syria to support the Tripoli government, according to the Syrian Observer for Human Rights, a war monitor.
"We have no mercenaries among our forces," al-Serraj said. "This allegation is misleading."
Al-Serraj also denied reports that the ceasefire deal proposed by Russia and Turkey and snubbed by Haftar referred to Turkey as an observer of a lasting truce in Libya.

Haftar is supported by Egypt and the United Arab Emirates, regional rivals of Turkey.