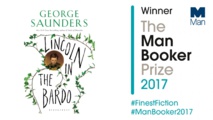 The 58-year-old New York resident, born in Texas, is the second American author to win the prize in its 49-year history. He was in contention for the prize with two British, one British-Pakistani and two American writers.
Lola, Baroness Young, 2017 Chair of judges, comments:
'The form and style of this utterly original novel, reveals a witty, intelligent, and deeply moving narrative. This tale of the haunting and haunted souls in the afterlife of Abraham Lincoln's young son paradoxically creates a vivid and lively evocation of the characters that populate this other world.
Lincoln in the Bardo
is both rooted in, and plays with history, and explores the meaning and experience of empathy.'
Lincoln in the Bardo
focuses on a single night in the life of Abraham Lincoln: an actual moment in 1862 when the body of his 11-year-old son was laid to rest in a Washington cemetery. Strangely and brilliantly, Saunders activates this graveyard with the spirits of its dead. The Independent described the novel as 'completely beguiling', praising Saunders for concocting a 'narrative like no other: a magical, mystery tour of the bardo – the "intermediate" or transitional state between one's death and one's next birth, according to Tibetan Buddhism.' Meanwhile, the Guardian wrote that, 'the short story master's first novel is a tale of great formal daring...[it] stands head and shoulders above most contemporary fiction, showing a writer who is expanding his universe outwards, and who clearly has many more pleasures to offer his readers.'
Saunders told TIME magazine that he didn't really want to write about Lincoln, 'but was so captivated by this story I'd heard years ago about him entering his son's crypt. I thought of the book as a way of trying to instil the same reaction I'd had all those years ago.'
Lincoln in the Bardo is published by Bloomsbury, making it the third consecutive year the prize has been won by an independent publisher, following Oneworld Publications' success in 2015 with Marlon James and 2016 with Paul Beatty. Bloomsbury has won the prize three times before, with Howard Jacobson (2010), Margaret Atwood (2000) and Michael Ondaatje (1992).
Saunders' win comes in the month that 1989 Booker Prize-winning author Kazuo Ishiguro was named as this year's Nobel Prize in Literature recipient. Ishiguro follows in the footsteps of other Booker Prize-recognised authors who have gone on to win the award including: V. S. Naipaul, Nadine Gordimer, William Golding, J. M. Coetzee and Doris Lessing.
Luke Ellis, CEO of Man Group, comments:
'We are pleased to congratulate George Saunders, along with each of the shortlisted authors, for his fantastic achievement this year. At Man Group, we are extremely proud to be sponsoring the world's foremost literary prize and celebrating exceptional literary talent for a fifteenth year. We understand the importance of intellectual capital and creative thought – and indeed, the ability to view the world from different lenses matters more than ever today, in this age of rapid and inexorable change. We also believe that businesses like ours have an important duty to advance progress in education at every level: from prizes like this, which recognise global talent, to the local grassroots initiatives championed by the Booker Prize Foundation and the Man Charitable Trust, which we are honoured to support.'
Lola, Baroness Young
was joined on the 2017 judging panel by the literary critic,
Lila Azam Zanganeh
; the Man Booker Prize shortlisted novelist,
Sarah Hall
; the artist,
Tom Phillips CBE RA
; and the travel writer and novelist,
Colin Thubron CBE
. The judges considered 144 submissions for this year's prize.
George Saunders' win was announced by Lola Young at a dinner at London's Guildhall. He was presented with a trophy from HRH The Duchess of Cornwall and a £50,000 cheque by Luke Ellis, Chief Executive of Man Group. Saunders also receives a designer bound edition of his book and a further £2,500 for being shortlisted.
At the event, which was broadcast live on the BBC News Channel, actors Maxine Peake, Rhashan Stone and Olivia Williams, read extracts from the shortlisted books. All the shortlisted authors attended alongside a number of former winners.
George Saunders will take part in his first official public event as winner at a New Statesman-partnered event at Foyles Charing Cross Road on Thursday 19 October 2017. Tickets can be bought here.
Royal Mail is again issuing a congratulatory postmark featuring the winner's name, which will be applied to millions of items of stamped mail nationwide on Wednesday 18 October and Friday 20 October 2017. It will say 'Congratulations to George Saunders, winner of the 2017 Man Booker Prize'.
Man Group
, an active investment management firm, has sponsored the prize since 2002.