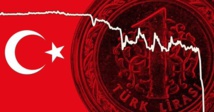 The currency was at times trading at more than 7 lira to the US dollar and more than 8 lira to the euro.
The lira has lost almost 50 per cent of its value since the beginning of the year amid fears over the strength of the economy and a deepening row with Washington over the detention of a US pastor.
Monday's rout came after President Recep Tayyip Erdogan blamed the fall in currency on a plot to oust him, likening it to the 2016 coup attempt against him.
"What they could not achieve with provocations and a coup, they are trying now to achieve with money," Erdogan told a meeting of his ruling Justice and Development Party in the Black Sea province of Trabzon on Sunday.
US tariffs of 50 per cent on steel, up from 25 per cent, also went into effect at 0401 GMT Monday, after US President Donald Trump announced he was doubling metals tariffs against Turkey in a tweet on Friday.