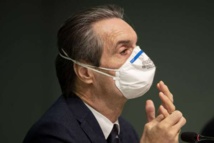 Dama, owner of menswear brand Paul&Shark, is controlled by Fontana's brother-in-law Andrea Dini, and the regional president's wife, Roberta Dini, has a 10-per-cent stake in it.
After the press started scrutinizing the deal, Dini decided in May to donate the material to Lombardy health authorities, rather than sell it.
In turn, Fontana volunteered to mitigate his relative's lost profits by trying to send him 250,000 euros from a personal bank account he has in Switzerland.
The bank transfer was flagged as suspicious to anti-money laundering authorities and Fontana eventually cancelled it. In a Sunday interview, he defended his actions.
"This story is absurd," he told the La Stampa newspaper.
"What is the crime? Usually people end up under investigation for trying to take money illegally. Instead, I may go down in history as the first politician investigated for trying to give money," he said.
He said he only wanted to "contribute" to his brother-in-law's donation, and maintained there was nothing illicit about his Swiss bank holdings.
Fontana hails from the far-right League party of national opposition leader Matteo Salvini, who has dismissed the investigation as an attack by politically motivated prosecutors.