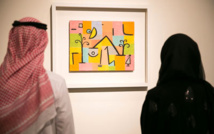 "The collection is a great wealth and demonstrates innovation. It is more than welcoming of art work, it also represents a message of culture that is pushing away fanaticism," Louvre president Jean-Luc Martinez said at a press preview event in the new building on Tuesday.
The museum in the Gulf city of Abu Dhabi - which was built by star architect Jean Nouvel and which features a 180-metre-wide dome and 6,000 square metres of exhibition space - aims to present human history in what is claimed to be the first truly global collection in the Arab world.
The Louvre Abu Dhabi has been gathering up artworks for years, and aims to present a mix from various cultures, ranging them in chronological order under themes such as civilization, trade and religion. In this way, the exhibits are intended to display connections and shared features between different parts of the world.
The UAE has paid 400 million euros (460 million dollars) for the privilege of using the Louvre name for the next 30 years; hundreds of millions more will be spent on art loans from French museums over the next decade.