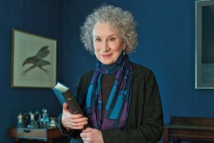 Margaret Atwood
Atwood attended the award ceremony, which was held in Frankfurt's Church of St Paul on the final day of the book fair. She is the 10th woman to receive the award, which has been given out since 1950 and carries a monetary prize of 25,000 euros (30,000 dollars).
The 77-year-old novelist and poet was honoured for the "humanity, pursuit of justice and tolerance" contained within her works of fiction and non-fiction.
"Stories are powerful," Atwood said in her acceptance speech. "They can change the way people think and feel – for better or for worse."
Heinrich Riethmueller, chair of the German Publishers and Booksellers Association, called Atwood a "champion of peace and freedom" who has opened our eyes to "how gloomy a world can look if we do not fulfill our obligations for a peaceful coexistence."