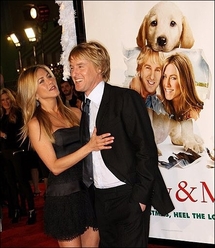 The movie tale starring Jennifer Aniston and Owen Wilson was the top draw for audiences in Canada and the United States, bringing in 37 million dollars in its debut weekend, box office tracker Exhibitor Relations said.
Moviegoers on the Christmas holiday weekend chose "Bedtime Stories," as the second top flick. The Adam Sandler comedy about a janitor whose dreams begin to come true brought in 28 million dollars in its opening weekend.
Ranking third was the reverse-aging movie headlined by Aniston's ex-flame Brad Pitt, "The Curious Case of Benjamin Button," which took in 27.2 million with its story of a man who is born old and gets younger with time.
Tom Cruise's Nazi epic "Valkyrie," about a plot by German officers to assassinate Adolf Hitler, came in fourth in its debut weekend with 21.5 million dollars.
The comedy "Yes Man," featuring Jim Carrey as a man who changes his life by agreeing to everything, raked in 16.5 million dollars for fifth place in its second weekend at theatres.
The drama "Seven Pounds" starring Will Smith as a man haunted by a secret pulled in 13.4 million dollars, while the animated flick "The Tale of Despereaux," about a big-eared mouse with great curiosity and ambitions followed in seventh place with 9.4 million dollars.
Science fiction thriller "The Day the Earth Stood Still," dropped to eighth place after its number-one debut four weeks ago, earning 7.9 million dollars. The Fox remake of a 1951 cult classic stars Keanu Reeves as an alien that comes to earth.
"The Spirit," which chronicles the return-from-the-dead of a rookie cop as a supernatural hero, debuted in ninth place with 6.5 million dollars.
Rounding out the top 10 was "Doubt," starring Meryl Streep as a nun who confronts molestation in the Catholic church, with 5.7 million dollars.