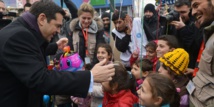 Rome

(dpa)

-
After a far-right extremist went on a xenophobic rampage on the weekend, injuring six African migrants, Italian Prime Minister Paolo Gentiloni called for national unity and composure from "all political forces."
But, perhaps unsurprisingly, his appeal has fallen on deaf ears.
Instead, Saturday's drive-by shootings by Luca Traini, a 28-year-old with neo-Nazi tattoos, has put migration in the campaign spotlight for March 4 general elections.
Ex-premier Silvio Berlusconi jumped on the events in Macerata, central Italy, to say that the country is saddled with "at least" 600,000 irregular migrants who live off crime and represent "a real social bomb ready to explode."
His remarks resonate with a large section of Italians, frustrated by mass immigration, as the country slowly recovers from a record recession during which the number of people in absolute poverty almost tripled to 4.7 million.
"Many people are tired [of migrants]," Olga, a 47-year-old Macerata resident, told dpa. "Many think it was foreseeable that somebody would have started shooting at them," she added, asking not to be quoted by her full name.
Traini, a failed local candidate for the anti-migrant League party last year, told prosecutors that he went for his gun to avenge the murder of an 18-year-old woman, whose dismembered body was discovered in two suitcases near Macerata on Wednesday, according to media reports.
A Nigerian man, a failed asylum seeker and alleged drug dealer, is in custody in connection with the crime, but he denies responsibility.
League leader Matteo Salvini called him a "WORM," in capital letters, on Facebook and said the ruling centre-left government has "its hands soiled with blood" for its inability to expel irregular migrants.
Salvini and Berlusconi are part of a poll-leading conservative bloc which includes Brothers of Italy, a smaller party with neo-Fascist roots. Their main contender is the populist Five Star Movement (M5S), while Gentiloni's Democratic Party (PD) is trailing in third place.
The PD can claim credit for cutting migration arrivals by more than a third last year, thanks to migration-stemming deals with Libya, and overseeing a modest economic recovery. But voters do not seem to be impressed.
"In September, an IPSOS poll we commissioned showed that 59 per cent of Italians backed government attempts to bring down immigration. And still, 81 per cent of respondents said they did not feel any safer," Matteo Villa, a researcher at ISPI think tank, told dpa.
"The attempt [by the PD] to defuse the issue of migration ahead of the election campaign did not work," Villa added, noting that it takes a relatively small number of landings or small amount of migrant-related crime news to sustain perceptions of a "crisis."
Italy has recorded more than 600,000 arrivals since 2013, and is the main gateway for Europe-bound sea migrants. But not all of them, as Berlusconi claims, are undocumented, nor have they all remained in the country.
According to Villa, about 25 per cent have been granted some kind of asylum or residency rights, and up to 150,000 have moved on to more prosperous northern Europe, leaving the total number of irregulars "well under" 500,000.
Salvini and Berlusconi have pledged to expel all of them, to the tune of 100,000 per year. But that looks to be a tall order, considering that in 2016, there were only 5,800 forced or voluntary repatriations from Italy.
Repatriations are costly, as migrants need to be put on planes, sometimes with a police escort; and they can happen only if their countries of origin recognize their nationality and agree to take them back.
"I'm waiting to find out how @Berlusconi intends to expel 600,000 foreigners: with armoured trains? With an airlift? With ferries? Throwing them into the sea? How quickly?" left-wing journalist Gad Lerner tweeted