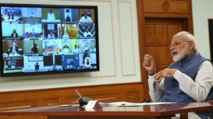 "Yoga boosts the immune system of the body," Modi said. "Pranayama Yoga or breathing exercises strengthen our respiratory system. It is more relevant in the current times as it is the respiratory system of the body that is most adversely affected by the Covid-19 virus."
"A lot of coronavirus patients across the world are benefitting due to yoga. The power of yoga is helping them defeat this disease," said the 69-year-old leader.
Modi was addressing the nation on International Day of Yoga, which was marked by a series of online events. Very few mass yoga sessions were held due to the Covid-19 outbreak.
India's coronavirus caseload topped 400,000 on Sunday as the country registered a record daily increase of 15,413 new patients, the Health Ministry said. Some 13,250 patients have died in India as a result of the virus.
Across the world, approximately 8.9 million people have been affected by the pandemic.
In previous years, Modi led yoga events attended by tens of thousands of participants across the country. In light of the pandemic, the Indian government said this year's theme would be "Yoga at Home and Yoga with Family."
"This year we are celebrating Yoga Day at our homes. Today is also a day we will strengthen the bond with our family," Modi said.
Television footage showed Indians including several leaders of Modi's ruling Bharatiya Janata Party (BJP) doing yoga poses at homes while yoga gurus like Baba Ramdev livestreamed sessions.
Security forces and paramilitary personnel also practiced yoga across the country - including on horseback - as well as in the high-altitude Himalayan regions with sub-zero temperatures.
Several Indian missions abroad were also organizing online events to mark the occasion.
Yoga, an ancient discipline first practiced by Hindu sages thousands of years ago, is one of India's biggest cultural exports, with millions of practitioners worldwide.
Global yoga events were held for the first time in 2015, when June 21 was declared International Day of Yoga by the United Nations to coincide with the summer solstice.