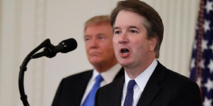 The committee confirmed on its website that Christine Blasey Ford will testify on Thursday. In addition, committee chairman Charles Grassley has delayed the committee vote on Kavanaugh, which had been planned for Monday.
"The chairman asked me to relay again that he will do everything in his power to provide a safe, comfortable, and dignified forum for Dr Ford to testify," read a note from committee lawyers posted on the website Sunday.
Ford, a statistics professor at Palo Alto University, alleges that Kavanaugh sexually assaulted her more than three decades ago, when the two were still in high school. Her testimony is set to start at 10 am (1400 GMT).
Kavanaugh denies the sexual assault on Ford, and has also said he is willing to testify to that effect.
However, as the weekend progressed, further allegations against Kavanaugh cropped up, raising further questions about how far the centre-right Republican party is willing to support him if the allegations prove credible.
The New Yorker ran an article reporting that members of the opposition centre-left Democrats on the Judiciary Committee are investigating allegations by Deborah Ramirez, who says that Kavanaugh exposed his penis to her and thrust it at her at a party while the two were attending Yale University. The incident would have happened in 1983 or 1984.
Meanwhile, Michael Avenatti - who has risen to fame this year representing Stormy Daniels, a porn star who alleges that US President Donald Trump and his lawyers paid her hush money to cover up a sexual tryst - tweeted Sunday that he is representing yet another woman with allegations against Kavanaugh.
"I represent a woman with credible information regarding Judge Kavanaugh and Mark Judge. We will be demanding the opportunity to present testimony to the committee," he wrote. "The nomination must be withdrawn."
Mark Judge was a friend of Kavanaugh's at the time of the alleged attack on Ford. He has said he has no recollection of such an incident.
So far, the White House is standing by Kavanaugh.
"This 35-year-old, uncorroborated claim is the latest in a coordinated smear campaign by the Democrats designed to tear down a good man," said White House spokesperson Kerri Kupec, referring to the New Yorker report.
Kavanaugh also responded after the New Yorker report.
"This is a smear, plain and simple. I look forward to testifying on Thursday about the truth, and defending my good name - and the reputation for character and integrity I have spent a lifetime building - against these last-minute allegations."
The allegations are threatening to derail Kavanaugh's lifetime nomination to the country's top court.
It is also putting Republicans into a tricky position. They are eager to use control of the White House and Congress to install a Supreme Court justice of a more conservative bent. But ever since film producer Harvey Weinstein was publicly lambasted last year for allegations of sexual assault, the #MeToo movement has pushed for sexual aggressors to receive their comeuppance.
One of the authors of the New Yorker report, Ronan Farrow, was the key reporter in the investigation that led to Weinstein's downfall.
The matter is also complicated by Trump's past. Aside from the Daniels affair, he was also shown in footage shortly before his 2016 election talking about grabbing women "by the pussy," footage that shocked most of Washington.
Trump on Friday appeared to cast doubt on Ford, saying that "if the attack on Dr Ford was as bad as she says, charges would have been immediately filed with local Law Enforcement Authorities."
Trump has been accused of having sexually harassed more than a dozen women, though he denies any wrongdoing.
Notepad