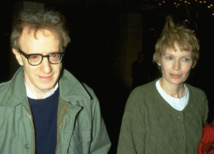 In a blog entry Wednesday, the 40-year-old instead accused Mia Farrow of abusive behaviour when he and his siblings were growing up.
"I'm a very private person and not at all interested in public attention," Moses Farrow wrote on his blog, "A son speaks out."
"But, given the incredibly inaccurate and misleading attacks on my father, Woody Allen, I feel that I can no longer stay silent as he continues to be condemned for a crime he did not commit," the photographer and therapist added.
Moses Farrow said that he and his siblings were often beaten by their mother and lived in fear of Mia Farrow, 73, whom he also accused of "brainwashing" her children into presenting sunny accounts of daily life.
Woody Allen has repeatedly rejected the sexual abuse allegations made by his adopted daughter, calling them "untrue and disgraceful."
Dylan Farrow claims she was abused by Allen in an attic in their Connecticut home when she was seven years old.
The allegations first arose at the time of Allen's breakup with Mia Farrow in 1992. Despite a subsequent investigation by Connecticut police, Allen was never prosecuted in the more than 20-year-old case.
After the breakup, Allen began a romance with Mia Farrow's adopted daughter Soon-Yi Previn, who was about 20 years old at the time. The couple later married.