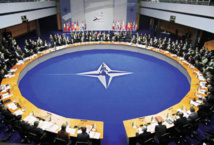 "Our primary objective is to ensure that this health crisis does not become a security crisis," the head of the 30-country defence alliance said in Brussels.
Allies are concerned that NATO's adversaries could exploit the situation and conduct hostile activities at a time when member states are focused primarily on combating the potentially lethal disease.
Last week, Russia conducted a large-scale exercise involving its two military districts geographically closest to NATO member states in Eastern Europe.
Russia's Defence Ministry said the exercise - which included a check of troops and strategic missile forces - was to practice containment of an emergency situation in light of the pandemic.
"We, of course, see significant military activities close to NATO borders with a new exercise in the western military districts of Russia," Stoltenberg said, adding: "Our operational readiness is maintained, is not undermined."
NATO foreign ministers are expected to reiterate their resolve and readiness to react in Thursday's videoconference.
The talks are expected to focus on responses to the coronavirus outbreak. NATO has helped deliver emergency supplies to its worst-hit members, such as Italy and Spain, while national armed forces are supporting domestic measures to combat the crisis.
Ministers are also due to take decisions relating to NATO's activities in Iraq and focus on developments in Afghanistan, while welcoming their 30th ally, North Macedonia, which joined the Western alliance last week.