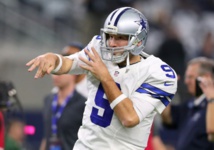 The 36-year-old quarterback, the Cowboys' all-time leader with 34,183 passing yards and 248 touchdowns pass, has not played a full season since 2012 due to injuries, missing 21 games over the past two seasons.
ESPN, Fox Sports and the NFL Network all cited unnamed sources in reporting Wednesday the team would dump Romo, whose salary cap cost of $24.7 million is the highest of any NFL quarterback.
Rookie Dak Prescott, who replaced injured Romo as the starter last year, sparked the Cowboys last season by completing 67.8 percent of his passes for 3,667 yards and 23 touchdowns with only four interceptions.
Romo, who turns 37 in April, fractured his back last August and rehabilitated most of the season only to find Prescott had taken his job.
Romo's fate appeared to be sealed with free agent signal caller Josh McCown, 38, visiting with the Cowboys on Wednesday. He was released by the Cleveland Browns last month after two seasons.
The Houston Texans and Denver Broncos are expected lead the teams interested in signing the veteran passer, who only managed a 2-4 playoff record with Dallas.
Exactly how the Cowboys will handle the release is uncertain. They could designate him a June 1 exit, which would save Dallas $14 million in salary cap room this year but cost the team $10.7 million this year and $8.9 million next season, according to ESPN.
If the Cowboys release Romo without such a designation, they will save $5.1 million in salary cap money but take a $19.6 million hit this season.
Thursday marks the start of the 2017 NFL campaign, when teams may begin signing free agents and making trade deals.