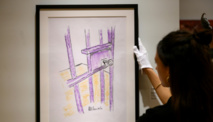 Mandela, South Africa's first black and first post-apartheid president who died in 2013, produced the picture with wax pastel crayons in 2002, according to Bonhams auction house.
The drawing shows the door of a prison cell on Robben Island near Cape Town, where Mandela was detained as a political prisoner for years before becoming president.
The work was one of only a few that the former president kept for his personal collection, according to the auction house.
His daughter Pumla Makaziwe Mandela inherited the picture and put it up for auction. When her father retired as president in 1999, he didn't have much to do, and this drawing was very special to him, his daughter said.
"For him, painting was a way of relaxing, but also of making sense of the past. This work held a particular significance for him as it was a constant reminder that he could not forget what seemed unforgettable, and that he should not take freedom for granted," Makaziwe Mandela said.
The drawing sold for 112,575 dollars including the buyer's premium, surpassing the estimated price of up to 90,000 dollars.