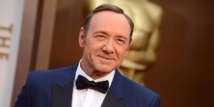 "We will continue to work with MRC during this hiatus time to evaluate our path forward as it relates to the show," the statement said, referring to production company Media Rights Capital.
Netflix also will not release "Gore," a film about writer Gore Vidal that was produced by and starred Spacey, the statement said.
Netflix had announced on Tuesday that it was suspending "until further notice" the production of "House of Cards," after saying on Monday that the sixth season of the award-winning hit political drama series would be the last.
US media reported Thursday that a former "House of Cards" production assistant had accused Spacey of sexual assault, while several of the show's crew members alleged the star displayed "predatory" behaviour on set.
Allegations against Spacey also surfaced in Britain this week, after US actor Anthony Rapp alleged in a BuzzFeed interview that the Hollywood star had made unwanted sexual advances towards him when he was a teenager.