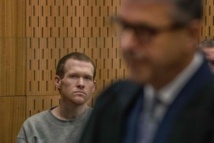 "But today, I hope, is the last where we have any cause to hear or utter the name of the terrorist behind it."
It is the first time such a strict sentence has been imposed in the country, Justice Cameron Mander told the Christchurch High Court as he delivered the sentence.
"Your crimes, however, are so wicked that even if you are detained until you die, it will not exhaust the requirements of punishment and denunciation."
Tarrant was motivated by "a base hatred" for people he believed to be different and appeared to be "empty of any empathy," Justice Mander told the court.
The gunman showed "no mercy" during the attacks, he said.
The sentencing was an important milestone but should not "overshadow" the stories of victims, police commissioner Andrew Coster said in a statement.
"While this will be recorded as an historic sentence, it is the impact on victims and their stories of survival, strength, humility and forgiveness that we must remember."
The police investigation into the attacks was one of the largest and most complex in New Zealand history, Coster said.
Australian Prime Minister Scott Morrison welcomed the sentence and said Tarrant, an Australian citizen, will not return to his home country to serve his sentence.
Morrison said Australia had not received any such formal request.
"The world must never see him, or hear from him, ever again," Morrison told parliament.
"New Zealand is family to us in Australia. Today we send our love across the ditch," he said, using the term Australians apply to the 2,000-kilometre wide Tasman Sea that separates the two countries.
Tarrant pleaded guilty in March to 51 charges of murder, 40 of attempted murder and a charge of committing a terrorist attack.
The attacks on the Al Noor mosque and the Linwood Islamic Centre were filmed by the gunman and live-streamed on social media.
It marks both the first time New Zealand has issued a sentence with no chance of parole, and the first time anyone has been sentenced for offending against New Zealand's Terrorism Suppression Act.
Sentencing took four days to complete, with 91 victim impact statements presented to the court.