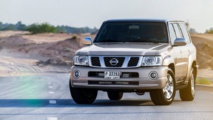 In February, Nissan, 43.4 per cent owned by Renault, had predicted a net profit of 65 billion yen for the year ending March 31.
Japan's second-largest carmaker is also likely to book an operating loss of 35 to 45 billion yen for the year ending March 31, it said in a statement.
Nissan's "performance has continued to decline, primarily impacted by the Covid-19 pandemic," it said.
"There is a possibility that Nissan may book an additional provision associated with" a revision of its midterm plan, it added.
Even before the pandemic affected its worldwide sales, Nissan significantly slashed profit forecasts in February due mainly to slumping sales in North America.
Nissan has been in turmoil amid plunging profits following the arrest of chairman Carlos Ghosn in Tokyo in November 2018.
Ghosn, the former head of the Renault-Nissan-Mitsubishi Motors alliance, has been charged with breach of trust and falsifying financial documents to understate his income. He spent a total of 130 days in Japanese detention. He has denied the allegations.
Ghosn, who holds Lebanese, French and Brazilian citizenship, fled Japan for Lebanon in late December. Lebanon has no extradition treaty with Japan.
Ghosn said he fled "injustice and persecution" in Japan.