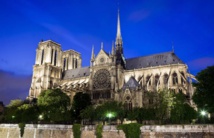 Rebuilding recommenced as planned early Monday, according to Etablissement Public, the body responsible.
"We shouldn't now expect 150 employees to be jostling around inside the cathedral," Notre Dame director Patrick Chauvet told broadcaster BFMTV. Instead, only a small team of architects and officials is initially to be in place. They are to prepare the employees' return.
Repairs to the cathedral, which was badly damaged by fire more than a year ago, were suspended in mid-March. The first step in the repairs' progressive resumption is to prepare the building site for the challenges of the coronavirus pandemic.
Hotel rooms have been booked for the many workers who do not live in or around Paris. "We need safe and appropriate accommodation, above all with regard to the epidemic," special representative for the project, retired General Jean-Louis Georgelin told broadcaster Europe 1.
Director Chauvet said that the measures are to restrict long-distance travel and reduce the risk of infection.
There are already a number of safety measures in place at the site to protect against lead poisoning. But shower areas must now be enlarged and changing rooms and lunch break monitored. Meals are to be delivered directly to the site, Chauvet said, while disinfectant dispensers are to be installed.
After the fire, French President Emmanuel Macron promised that the cathedral would be rebuilt within five years, a pledge that he reaffirmed on January 1 - but one that had long been doubted by experts.
"We'll do everything to make it happen," Georgelin said. Even if work will not have ended by 2024, which many expect, services may be possible by then.