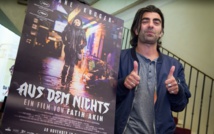 Set in 2015 and shot in Kenya, Benrath's nearly half-hour short is based on a true story about an attack on bus carrying both Muslims and Christians by the Islamist terrorist group al-Shabaab.
Benrath thanked those who worked on the film in Kenya, saying in a statement that "their love, passion and strength carried us all together through this project."
Expectations in Germany had been high for "Aus dem Nichts" from Turkish-German director Fatih Akin in the build-up to the Oscars after it won the 2018 Golden Globe Award for best foreign film.
German actress Diane Kruger also won the Cannes Film Festival's best actress award in May for her role in the film as a woman seeking revenge for the deaths of her Kurdish husband and son in a neo-Nazi bomb attack.
Akin was inspired to make the movie following the revelations that a far-right German terrorist group, the National Socialist Underground (NSU), had carried out the murders of nine, mainly Turkish, migrants across Germany between 2000 and 2007.
In the end, the battle for 90th academy awards for best foreign language film came down to five films, which had received critical acclaim at last year's three top movie festivals in Cannes, Venice and Berlin.
This included "Loveless" from Russian director and Putin critic Andrey Zvyagintsev, which premiered in Cannes as well as Swedish director Ruben Ostlund's "The Square," which won the festival's top prize, the Palme d'Or.
Among the films nominated was Hungarian director IIdiko Enyedi's "On Body and Soul." A love story set in an abattoir, the movie last year won the Berlin Film Festival's golden bear for best picture.
The other nominations included Chilean filmmaker Sebastian Lelio's "A Fantastic Woman," which also proved to be very popular at last year's Berlin Film Festival, along with "The Insult" from Lebanon's Ziad Doueiri, which was shown at last year's Venice Film Festival.