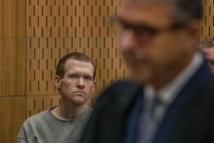 Australian-born Brenton Tarrant starts the first day of his sentence with no chance of parole on Friday for the March 2019 terror attacks on two New Zealand mosques that left 51 worshippers dead.
He was handed the sentence on Thursday after a four-day hearing - it is the harshest sentence ever imposed in the country.
New Zealand's Deputy Prime Minister Winston Peters called on Australia to take Tarrant back to spare New Zealand the cost of the 29-year-old's jail time.
Peters said that due to increased security needed to keep Tarrant safe, it would cost 4,000 New Zealand dollars (2,662 US dollars) a day. He said by the time he dies in jail, it could cost New Zealand around 50 million dollars.
"This terrorist should be returned to the country that raised him," Peters said on Australian television Friday morning.
"The Islamic community and all of New Zealand has already suffered enough without having to pay astronomical prison costs to keep him safe in our prison system."
Morrison told the Channel 7 Sunrise program he was pleased Tarrant would die behind bars and he was "open" to discussing the matter with New Zealand Prime Minister Jacinda Ardern.
He said he had not received a formal request from the government to have Tarrant serve his sentence in Australia.
"These sorts of decisions obviously have a lot of implications and the Prime Minister of New Zealand and I will talk about these issues," Morrison said.