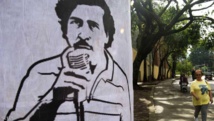 The Monaco building, which was located in a wealthy neighbourhood of Colombia's second-largest city, was destroyed in a spectacular explosion on Friday that sent a huge cloud of reddish dust over the area.
The building had been one of the homes of Escobar, who is held responsible for some 6,000 killings.
The cocaine kingpin, who turned over billions of dollars in annual income, was gunned down on a Medellin rooftop in 1993 at the age of 44.
The Monaco building had formed part of tourist circuits focusing on Escobar's life, which have become popular in the city.
Medellin is, however, trying to dissociate itself from Escobar's memory. City authorities had placed the Monaco building under police guard, and tourists had only been able to see it from the outside.
A park in memory of the victims of drug traffickers will now be created at the site, broadcaster RCN reported.
President Ivan Duque called the destruction of the building a triumph for "the culture of legality."
Notepad