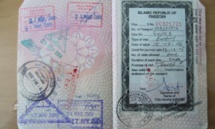 People from more than 50 countries including the United States and the Britain would now be able to get on-arrival visas for Pakistan, cabinet minister Fehmida Mirza told media in the capital Islamabad on Friday.
The citizens of 175 countries can get online or electronic visas, an option Pakistan had previously not offered, Mirza added.
"We have some of the best tourist places in the world; the mountains, peaks like K2, valleys and deserts," the minister said at a press conference, adding: "We want to attract international tourists."
Pakistani security agencies would ensure the safety of tourists to revive the tourism industry, Mirza said.
Pakistan has half a dozen peaks in the north popular with global mountaineers, including the second-highest in the world, K2, and hundreds of kilometres of coastline in the south and mesmerizing deserts.
The country used to receive hippies, mountaineers, adventurers interested in rafting and tourists from all over the world.
But things changed after international forces started their campaign in neighbouring Afghanistan to hunt down militants from al-Qaeda in the aftermath of 2001 terrorist attacks in the United States.
Pakistani security forces have now pushed back Islamist militants in a series of offensives since 2014 and the country.