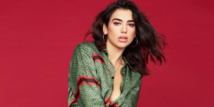 Dua Lipa
But Lipa says she would not have been able to become a singer if she had not been able to leave her home country of Kosovo as a teenager.
"I'm doing what I'm doing because I had the opportunity to leave Kosovo when I was 15," she told dpa, adding that it upsets her to see others, especially young people, who were never given the same chances.
Lipa was born in London in 1995 to Kosovo Albanian parents. They moved back to Kosovo when Lipa was a young child, yet returned to London later.
"Someone said to me in an interview: 'It seems like you have an immigrant's work ethic.' And I thought that was quite a weird thing for someone to say," she recalls.
But, she says, she does understand the sentiment, as she has been influenced by her parents' work ethic.
"I think watching them work multiple jobs, work during the day and during the night - I feel like I've seen that nothing comes easy and you have to do everything with hard work."
When asked how she feels about Britain leaving the European Union, she says: "personally I don't believe in Brexit."
"Our world is mainly made up of diversity .... Living in London, you know, I know a lot of people that are English, but I know more people that aren't," she says.
But although she feels Brexit was not the right choice, she says she recognizes that "we, as citizens, have to try and make the most of it."