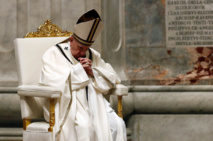 All papal celebrations for Holy Week, the seven-day period leading up to Easter Sunday, are taking place with no public audience. The faithful can follow them online or on television.
After Easter Mass, Francis was set to give the "Urbi et Orbi" (To the city and to the world) message and blessing, which is normally imparted at Easter, Christmas and after a papal election.
On a normal Easter Sunday, St Peter's Square would be packed with people and the square adorned by tulips and other flowers from the Netherlands.
This year, however, the square is empty and without decoration. It has been closed to the public, along with St Peter's Basilica and the Vatican Museums, for more than a month.
Easter, which falls on April 12 for Catholics, commemorates the resurrection of Jesus Christ in celebrations that are traditionally marked with hope.