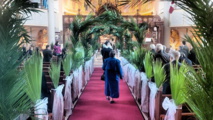 The total number of confirmed novel coronavirus infections in Lebanon now stands at 520. At least 17 people have died from Covid-19, the disease caused by the virus, according to Health Ministry figures.
Churches and mosques have been asked to close their doors to prevent people gathering.
But the lockdown did not prevent priests in Christian neighbourhoods from carrying out their Sunday Palm masses via loud speakers, with people listening and praying from inside their homes.
Worshippers in neighbourhoods north of Beirut were seen standing on balconies with their children carrying candles and listening to the mass.
"Mum told me this year we cannot go to church or wear new clothes but instead we should pray at home for God to heal people who are sick," said Gerard, a 6-year-old boy.
Airport closures due to the pandemic have also kept families apart.
"I have three children, two are studying in Paris and one in Canada. Usually on their Easter break they come home and we celebrate Palm Sunday by going to church together, but this year I am alone," said Lina Bajani, aged 45.
Palm Sunday forms part of the lead up to Easter Sunday, this year on April 12, when Christians celebrate the resurrection of Jesus from the dead.
In their sermons, Lebanese priests called on people to stay at home and pray this year that they will able to celebrate Easter next year with health and happiness.
"Jesus is with you wherever you are and will hear your prayers anywhere, whether at home or at church," a priest who was carrying out a sermon from the studio of the local MTV broadcaster, told the faithful.
"With our prayers and patience, we will overcome these difficult times."