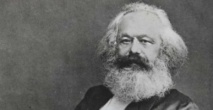 Prominent guests and protesters alike were in town for the events, with the highlight of the celebrations being the unveiling later Saturday of a huge, 5.5-metre-tall statue of Marx, a gift from China.
German TV moderator Guenther Jauch, who read the 1818 certificate signed by one of his forefathers, deputy mayor of Trier at the time, as well as Frederique Longuet-Marx, the economist's great-great granddaughter, were well-known names in attendance.
Police in Trier were also bracing themselves for hundreds of protesters, both in support of and against Marx.
"We can finally look at Marx a bit more impartially," said Andrea Nahles, the recently elected head of Germany's Social Democrats. "That was always superimposed during the Cold War by so-called real existing socialism," she added at an event at the Karl Marx museum.
Nahles also shot back at insinuations that the festivities were a bit too much: "If we're going to celebrate, then this is the time. And, in light of Marx's worldwide importance, completely reasonable."
The vice head of the PEN writers' association in Germany requested that the statue's unveiling be delayed until Chinese poet Liu Xia - widow of Nobel Peace laureate and rights activist Liu Xiaobo - has been released from house arrest and allowed to leave China.
The anti-migration Alternative for Germany (AfD) party plans to remember the victims of communism with a silent march, and vigils for the Chinese-banned spiritual movement Falun Gong are planned.
At the same time, a Marxist alliance, including members of the leftist party Die Linke and the German Communist Party, has also planned a demonstration "against capitalism and exploitation."
According to the police, a counter-demonstration against the AfD march is also planned.
In the centre of Trier, the state of Rhineland-Palatinate has set up a display - "Karl Marx (1818-83), Life – Work – Influence up to the Present" - where more than 400 exhibits from nearly a dozen German states will be on display in two Trier museums.
There are also two partner exhibitions in the city's Cathedral Museum and in the Karl Marx House, the place of his birth.