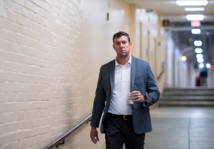 One of the women Hunter allegedly took up with was on his staff; another worked in the office of a member of the
House of Representatives
leadership, new court records state.
In a sweeping series of court filings this week, the
US Attorney's Office
in
San Diego
accuses the six-term
California
Republican of engaging in a litany of extramarital affairs and paying for some of them with campaign funds while serving in
Congress
.
Prosecutors outlined the behavior in a filing aimed at convincing the judge that the spending was not for campaign purposes, one of the presumed arguments that may be put forward by Hunter's criminal defense attorney.
Hunter and his wife of 21 years, Margaret, were co-indicted in August on 60 counts of misusing campaign funds and lying to cover up their crimes. Margaret Hunter pleaded guilty two weeks ago to a single count of conspiracy and agreed to testify against her husband.
She faces up to five years in prison when she is sentenced later this year but is expected to receive a significantly reduced sentence in exchange for her cooperation.
The congressman has denied all charges and said the case is politically motivated. Monday he sought to have the charges tossed or at least have some prosecutors removed from the case.
His trial is scheduled for September.
In additional motions filed ahead of the next court hearing this Monday, prosecution lawyers for the
Southern District
of
California
sought to admit statements into evidence from Margaret Hunter, who served as her husband's campaign treasurer during much of the alleged illegal spending.
"Margaret Hunter is free to waive her spousal testimonial privilege, and her trial testimony about their joint criminal activity is admissible," prosecutors said.
The US Attorney's Office
also wants to exclude from trial any "advice of counsel" defense, such as when a defendant says they sought advice from an attorney and so didn't know they were breaking the law.
The prosecution also wants to exclude any evidence or arguments by Hunter that his use of campaign donations was routine for other members of
Congress
and that he thought the actions were lawful.
"Whether other congressmen embezzle campaign funds has no bearing on Hunter's own guilt or innocence," prosecutors wrote. "Likewise, witnesses are not competent to opine on the legality of Hunter's behavior or to draw conclusions or make statements as to Hunter's state of mind."
Defense attorney
Gregory Vega
, meanwhile, wants to move the trial outside the
Southern District
of
California
, which includes
San Diego
and
Imperial
counties, due to continuing coverage of the case by local reporters, especially
The San Diego Union-Tribune
.
"Since the time of his indictment, Hunter has regularly received enormous negative local media coverage which will deny him a fair trial and is the basis for this motion," Vega wrote in his motion for a change of venue. " ... Not only has most of the coverage been negative, the (
Union-Tribune
)'s own editorial board has actively called for Hunter's resignation."
Vega suggests the trial be moved to the
Eastern District
of
California
, which encompasses a huge swath of eastern and northern
California
, from
Kern County
to
Shasta County
.
"Hunter would be guaranteed a fair trial and impartial jury there, free from the extreme prejudice that has permeated in the
Southern District
through the local press and the government's sensationalistic indictment," the motion stated.
The filings by prosecutors this week are the first time they have publicly accused
Representative Hunter
of engaging in extramarital affairs.
Previously, Hunter has denied the infidelity and said the case against him is politically motivated by biased federal prosecutors.
Prosecutors say Hunter's initial relationship with a woman who was not his wife began in
April 2009
, three months after he took over the congressional seat previously held by his father, also named
Duncan Hunter
.
Soon thereafter, the newly elected congressman moved in with the lobbyist, who is identified in court papers as Individual 14, prosecutors said.
"The two began to socialize and spent time together with the same close-knit group of friends," the filing states. "Their relationship soon blossomed beyond a mere friendship.
"Although the pair kept their romance under wraps, taking care not to be seen together in public, they found excuses for occasional outings or getaways together," the motion added. "As their relationship grew more serious, Hunter began living with
I-14
at her D.C. area home."
Vega, a former
US
Attorney for the
Southern District
of
California
, did not respond to a request for comment Tuesday.
The government's indictment issued last summer included numerous details implying that the congressman was not faithful to his wife, but it stopped short of alleging serial philandering. Rather, "Individuals 14 through 18" were said to have had personal relationships with the congressman.
The 12-page motion filed Monday contains multiple examples of Hunter engaging in affairs and allegedly using political contributions to finance them.
"Hunter spent $905 in campaign funds to pay for the hotel bar tab and room he shared with
I-14
that weekend" in Virginia Beach, the filing stated, referring to Individual 14. Later, "they paid the $455 hotel bill, for all three nights, using campaign funds."
Hunter and Individual 14 ended their relationship in
April 2012
, prosecutors said. By the following August, the
East County
congressman began a romantic relationship with Individual 15 while the two attended the
Republican National Convention
in
Tampa, Florida
, court records state.
"Over time, their relationship grew more serious, although once again Hunter was careful that the pair were not seen together in public," prosecutors wrote. "They often spent time together at
I-15's
D.C.-area home, and as the relationship developed, Hunter began staying there nearly every night."
Individual 15 is described as an employee of a member of the House leadership, then controlled by the
Republican Party
.
Hunter began "a romantic relationship" with a woman who started working in his congressional office in
January 2015
, the filing says. He and "Individual 16" occasionally spent nights together at his office and he took her to socialize with his friends, "using campaign funds to pay for their dates," the motion stated.
Individuals 17 and 18 were both lobbyists that Hunter knew professionally and socially, prosecutors said. On multiple occasions, the court records say, Hunter used his campaign credit card for food, drinks, hotel stays and Uber rides to and from his girlfriends' homes, prosecutors said.
"As the above facts make clear, evidence of Hunter's intimate relationships is admissible to show the 'personal' nature of his expenditures, his knowledge that these expenditures were for an unlawful purpose and his motive to steal campaign funds," the filing stated.
Hunter's trial is scheduled to begin
September 10
. He is due in court Monday for a hearing to consider legal arguments from prosecutors and the defense.