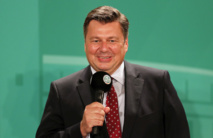 Andreas Geisel,
"Based on the current state of investigations, we are assuming this was an Islamist attack," said Andreas Geisel, the interior senator for the city-state of Berlin. But prosecutors and police also noted that there were "indications of mental instability."
The man has been temporarily ordered into psychiatric care. He is under investigation for attempted murder.
There is no indication currently that the man was a member of a terrorist organization, investigators said.
However, Steltner vowed to leave "no stone unturned" in investigating whether any others had been involved in the plot.
Security sources told dpa that the man had been in contact with someone known to authorities as a dangerous Islamist. That individual has been linked to Islamic State, according to the local Tagesspiegel newspaper.
Prosecutor Margarete Koppers said that in the last attempt at ramming a motorcycle, the attacker forced the motorcycle into the path of an oncoming car, which also left the three occupants of the car injured.
When he was stopped, the man was carrying a kitchen knife and a prayer rug and was shouting "Allahu Akbar," which is Arabic for "God is greatest" and saying that everyone was going to die.
He also told police he was carrying a box full of dangerous items, but authorities only found tools. No explosives were found either.
The suspect is believed to have acted alone, Koppers said. She added that he had come to authorities' attention in the past for less serious crimes, such as assault and attacking an officer. She said he was placed in psychiatric care after a 2018 incident as a measure to prevent additional violence, as there were no grounds to detain him.
"Statements made by the accused after his actions suggest a religious-Islamist motive. There are also indications of psychological instability," a joint statement from Berlin police and prosecutors said.
One of the seriously injured people was a firefighter who had been on his way home from work, a fire brigade spokesperson said.
It was not clear whether the man had been driving a car or riding a motorbike at the time.
Prosecutors said the suspect is an Iraqi immigrant permitted residence pending deportation. He is still to be arraigned on Wednesday on charges of attempted murder.
Prior to the attack, the Iraqi national had posted photos of the car he had been driving on his Facebook page. The images were accompanied by religious statements written in Arabic in which he uses the term "martyrs."
According to his Facebook profile, the man studied graphic design. A picture posted on March 2015 shows him at a graduation event at an Iraqi art school.
After the crashes, the badly damaged vehicle was seen at the motorway exit heading east towards Berlin's Tempelhof neighbourhood. The road was strewn with wreckage and a motorbike helmet.
One motorbike was wedged into the battered bonnet of the car, having apparently been hit with significant force.
Parts of the motorway had still been blocked on Wednesday morning due to the police operation at the scene, although most of the closures have since been lifted.