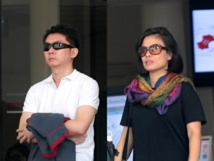 "We strongly urge the President of Singapore to exercise clemency and commute Michael's sentence to life imprisonment," N Surendran, an adviser to the rights group Lawyers for Liberty, said in a statement.
"Singapore gains nothing by carrying out this execution, except to strengthen the perception of indifference and callousness to human life," he added.
Narendran acknowledged that Garing had committed a "serious crime and that he must face punishment" but added that he "must be given an opportunity for rehabilitation."
Garing was part of a gang of four from Sarawak who went on a brutal seven-hour robbery spree in Singapore in May 2010.
Garing, armed with a 58-cm-long machete, had left one person dead by slitting his throat and severing his left hand. Three other victims were seriously injured in the rampage.
In explaining the decision to uphold the conviction, the appellate court had said, "The sheer brutality exhibited by [Garing] warrants the imposition of the death penalty," adding that Garing had "attacked the deceased in a totally savage and merciless manner as though he were attacking a hunted prey."
A murder conviction mandates the death penalty in Singapore and can only be overturned if granted clemency by the President.