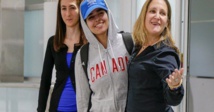 The 18-year-old made the comments Monday in an interview with Australia's national broadcaster ABC journalist Sophie McNeill, whom she met while stuck in Bangkok last week.
"I hope my story encourages other women to be brave and free," al-Qunun said in Arabic.
"I hope my story prompts a change to the law, especially as it has been exposed to the world," she added, referring to Saudi Arabia's unofficial guardianship laws which she alleges led to her abuse.
"This might be the agent for change."
Al-Qunun arrived Sunday at Toronto's Pearson International Airport wearing a grey hooded jumper emblazoned with the word Canada, but did not speak with the media waiting for her arrival.
Al-Qunun fled her family while visiting Kuwait and flew to Thailand. She had planned to enter Australia on a tourist visa and seek asylum.
But she was stopped by Thai immigration authorities after landing at a Bangkok airport last week.
Al-Qunun's case captivated the world after she took to social media asking for help as she barricaded herself in an airport hotel room.
Australia had also considered granting al-Qunun asylum.