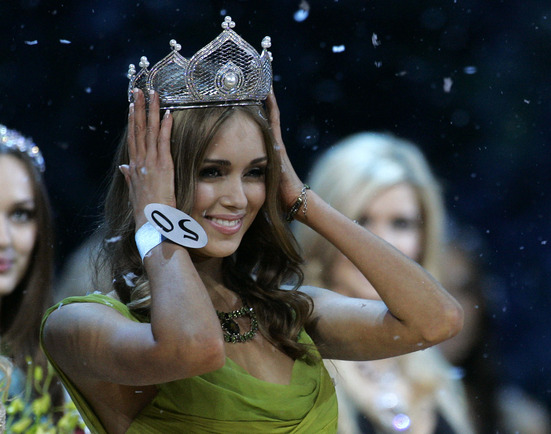 The second runner up was Gabrielle Walcott of Trinidad and Tobago and the first runner up Parvathay Omanakuttan of India.

The 21-year-old blue-eyed blonde beauty, who declared shortly before her win was announced that being nervous made her "feel stronger," takes over from Zhang Zi Lin of China to become the 58th Miss World.

"I think I can help people and I want to help people and today if I walk away with this crown I will do that," Sukhinova told judges through a translator after being asked why she should be crowned the winner.

Hailing from Nizhnevartovsk in the north west of Siberia, Sukhinova was dressed in a purple gown, with a decorative neckline and flowing skirt.

Miss Russia Ksenya Sukhinova
©AFP Paballo ThekisoShe is a student pursuing an engineering degree from the Tyumen Oil and Gas University.

Sukhinova becomes the second Miss Russia to win the global event after Julia Kourochkina took the crown in 1992.

India's Omanakuttan wooed the crowd by greeting them in the Afrikaans language, spoken by many in South Africa. She also referred to heroes such as Mahatma Ghandi and South Africa's first black president Nelson Mandela, who was quoted by Trinidad and Tobago's Walcott as well.

Contestants, aged 17 to 25, were dressed by South African and Jamaican designers for the final show after a month of galas, rehearsals and even a safari on the tip of the African continent.

Trading glamour for the bush, the beauties donned T-shirts and sneakers as they gamely tramped into the bush to see lions and giraffes, play African drums, sleep in huts and cook traditional Zulu meals.

Johannesburg sought to use the event to boost its image as a world class city, despite being known for its high crime rates, while the country also hopes to benefit from the publicity ahead of staging the football World Cup in 2010.

Miss Russia Ksenya Sukhinova (C) reacts after being crowned Miss World 2008
©AFP Paballo Thekiso"I think we have been able to showcase the best of what our country has to offer," said judge Lindiwe Mahlangu, the chief executive of Johannesburg tourism.

Beauties from 109 countries were whittled down to 15 semi-finalists with India, Russia, Trinidad and Tobago, Angola and South Africa among the five finalists.

South Africa's Tansey Coetzee had her home crowd on their feet shouting support as her name as a finalist was announced.

The winner of the event, broadcast live to millions of viewers in 187 countries, has to espouse "beauty with a purpose" with charity being one of the main focuses of the pageant.

"Over the years the crown that is worn by the winner is a symbol for fundraising. Miss World herself, this year, the winner from China, she's raised over 30 million dollars in her year in office," Morley said.

"So perhaps from anything else it does a lot of good things for needy children and old people, which I think is important too."

The 51-year-old competition was originally scheduled for October 4 in Kiev, but was delayed in September over security concerns due to the conflict between neighbours Russia and Georgia.