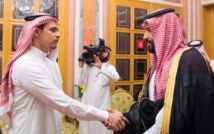 King Salman and Crown Prince Mohammed bin Salman offered their condolences to Khashoggi's brother and son during a meeting at the royal palace in Riyadh, official Saudi news agency SPA reported.
Erdogan also offered his condolences to Khashoggi's family in a phone call on Tuesday, according to state news agency Anadolu.
In the same call, he pledged to "shed light on the murder," Anadolu said, continuing to pressure the Saudi elite.
"Pinning such a case on some security and intelligence officials will not satisfy us or the international community," Turkish President Recep Tayyip Erdogan said in a speech in Ankara earlier Tuesday, pledging to "bring to account everyone from the person who gave the order to the person who carried it out."
Erdogan said officials from Riyadh's consulate in Istanbul and a team of 15 people from Saudi Arabia planned the "political murder" of Khashoggi, a vocal critic of the kingdom's crown prince, days before his death.
"A plan, a road map was put into action," Erdogan told a meeting of his ruling Justice and Development Party (AKP) in parliament.
He further cited "strong evidence" that employees of the consulate scouted a nearby forest prior to the incident while "15 Saudi security, intelligence and forensic officials" were flown in a day before Khashoggi's death on separate flights.
Erdogan's remarks, three weeks after Khashoggi disappeared inside the Saudi consulate in Istanbul, follow earlier statements by Riyadh that the journalist was killed by a rogue team, including local cooperatives.
"Why did these 15 people team up in Istanbul? On whose orders? Who is this local cooperative?" Erdogan asked, without citing any named Saudi officials or members of the royal family.
"No one should ever think that this case can be covered up before all these questions are answered," Erdogan said, adding that the whereabouts of Khashoggi's body is still unknown.
US Vice President Mike Pence on Tuesday said the director of the US Central Intelligence Agency (CIA), Gina Haspel, was in Turkey, and that the "full resources" of the US intelligence services were being deployed.
He called the "brutal murder" an "assault on a free and independent press," while also slamming Riyadh for engaging in "deception," though he stopped short of promising sanctions.
"The president will make a decision that reflects the values and the interests of the American people," Pence said. "We will do what is best for the American people and we will also make sure the world knows the truth of what happened."
Local media in Turkey reported that Turkish authorities conducted searches of a villa near Istanbul and a car believed to belong to the Saudi consulate in connection with Khashoggi's case on Tuesday.
Khashoggi's death on October 2 was described as "murder" for the first time by Saudi Foreign Minister Adel al-Jubeir on Sunday.
Riyadh had initially denied that Saudi officials had any knowledge of what had happened to the 59-year-old dissident journalist, saying he had left the consulate after picking up papers for his forthcoming marriage.
The kingdom admitted on Saturday - 18 days after the incident - that Khashoggi indeed died in the consulate but blamed the death on a "fistfight" and said more than a dozen people were being questioned.
While al-Jubeir told Fox News on Sunday that the kingdom was "determined to punish those who are responsible for this murder," Erdogan offered to have the suspects tried in Turkey instead of Saudi Arabia.
"I call on the top [Saudi] management, King Salman in particular," Erdogan said Tuesday. "I propose putting these 18 people on trial in Istanbul. It is up to them to decide [on a trial], but such is my proposal and my demand."
Turkish Foreign Minister Mevlut Cavusolgu said earlier in the day that Ankara is also ready to cooperate in a possible international investigation into Khashoggi's death.
The effects were being felt in Saudi Arabia as well, with Khaled al-Falih, Saudi Arabia's energy minister, saying the kingdom's leadership is "very upset" about the case.
"These are difficult days for us in the Kingdom of Saudi Arabia, we are going through a crisis, resulting from the very regrettable and abhorrent incident that took place in Turkey," he told an investor conference in Riyadh.
Western powers in recent days have increased their pressure on the kingdom, with US President Donald Trump holding calls with French President Emmanuel Macron and Erdogan on the subject.