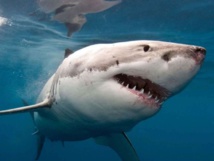 The boy suffered arm, head and chest injuries after being dragged into the water by the shark and was subsequently rescued by his father, Ambulance Tasmania said in a statement.
"The boy's father jumped into the water at which point the shark swam off," the state ambulance service said.
The boy, who was wearing a life jacket, was taken to hospital and is in a stable condition, the statement said.
Shark attacks in Tasmania are rare. This is the fourth shark attack this month in Australia, with at least 10 known shark attacks in the country this year.
On Tuesday, a woman was seriously injured in an attack at an island near the Great Barrier Reef. She was on her day off from filming a documentary about sharks when she was attacked.
On Saturday, a 15-year-old boy was killed in a shark attack while he was surfing at Wooli Beach near Grafton in eastern Australia.