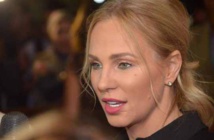 Shereen Reda
Currently, Reda is shooting a new 45- episode TV series, Hagar Gohanam, which will premiere on TV during the beginnings of 2017. Directed by Hatem Ali, the TV drama stars Kenda Aloush, Eyad Nassar, and Arwa Gouda.
During 2016, Reda received the Best Actress Award at the Egyptian National Film Festival for her role in Out of Order by director Mahmoud Kamel. The award marks her second after receiving it from the 42nd Egyptian Film Association Festival for the same role.
Reda has been active in cinema this year through several, such as; Nawara that landed world premiere at Dubai International Film Festival 2015, Hepta: The Last Lecture, which garnered more than 20 million EGP in ticket sales, holding the record for the highest-grossing romance film in the history of the Egyptian box office, as well as the romance/comedy Kedbet Kol Youm.
Reda was also part of several TV drama hits that premiered in Ramadan 2016; Al Meezan, Fouk Moustawa Al Shobohat, where she received wide acclaim among audiences and critics.