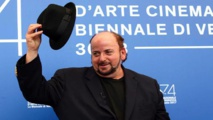 US writer and director James Toback, who was nominated for an Oscar for best screenwriting for the 1991 movie "Bugsy," has been accused by dozens of women of various acts of sexual harassment over the past 20 years, according to a report in the Los Angeles Times.
In a statement provided to dpa on Tuesday, the Writers Guild of America, East said the allegations are "extensive and consistent, and this sort of behavior cannot be tolerated."
The union said it is reviewing how it can fight to ensure "an atmosphere free from sexual harassment and aggression" for its members.
The news comes in the wake of a scandal involving producer Harvey Weinstein, who has been accused of sexual assault by dozens of women, sparking widespread debate about harassment and sexism in Hollywood.
The Los Angeles Times published an article Sunday in which 38 women made accusations against Toback. Since then, more than 200 women have reportedly contacted the paper via phone or email to make similar accusations.
The women described how Toback would approach them, boast about his career and tell them he could make them a star. He then would invite them to hotel rooms, movie trailers or editing studios, where the "meetings framed as interviews or auditions quickly turned sexual," the paper reported.
Toback has denied the allegations, the paper said.
Notepad