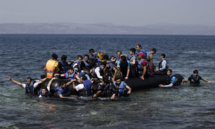 Lake Van is close to the border with Iran and sits on a path which asylum seekers and migrants, particularly those from Afghanistan, have been using as a gateway into Turkey in the hope of reaching Europe.
The identities of the victims were not immediately clear. Soylu said search and rescue efforts were still under way and added that 11 people had so far been detained in relation to the incident.
In December, seven people died and 64 were rescued after another boat carrying migrants capsized on Lake Van. The boat had been carrying migrants from Pakistan, Bangladesh and Afghanistan.
Turkey hosts nearly 4 million refugees, including 3.6 million from neighbouring war-torn Syria.
Ankara has been blocking refugees from reaching the European Union in return for billions of euros in aid under a 2016 agreement.
In February, Turkey said it would no longer stop thousands of migrants from trying to reach Europe, triggering crowds of people gather on the land border with Greece.
The migrant movement halted following the outbreak of the coronavirus pandemic.