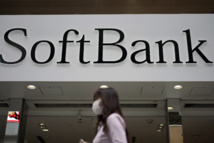 The figure compared with a net loss of 127.2 billion yen the Japanese technology giant posted in the same period last year.
SoftBank also reported an operating loss of 1.35 trillion yen in the first three months of this year, a sharp drop from an operating profit of 214.6 billion yen the year earlier.
For the latest financial year ending March 31, SoftBank logged a net loss of 961.6 billion yen, which was stark contrast to a net profit of 1.4 trillion yen the year before.
The group also posted an operating loss of 1.36 trillion yen for the year, compared with an operating profit of 2.07 trillion yen the year earlier, while sales edged up 1.5 per cent to 6.19 trillion yen.
SoftBank said in a statement that its Saudi Arabia-backed Vision Fund, which focusses on tech start-ups, suffered a 1.8-trillion-yen investment loss due mainly to "the impact of the outbreak of the novel coronavirus."
The group, whose fund invested in 88 startups, posted 9.7-billion-dollar losses on ride-hailing company Uber and office-space start-up WeWork alone, it said.
SoftBank unveiled a plan in March to sell up to 4.5 trillion yen of assets to reduce its debts and expand share buybacks to support its share price.
The group declined to provide forecasts for the current financial year through March 2021 due to the uncertainty of the business environment.