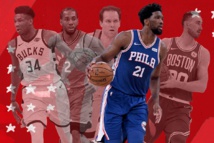 Last season, the 76ers reached the Eastern Conference semifinals for the second straight year but were eliminated by the eventual champion Toronto Raptors when Kawhi Leonard's shot in Game 7 hit the rim four times before dropping through as the buzzer sounded.
The offseason brought considerable change to the starting lineup. Gone are four-time All-Star Jimmy Butler and sharpshooter J.J. Redick. In their place are five-time All-Star big man Al Horford of the Dominican Republic and combo guard Josh Richardson.
Including the 7-foot Embiid, the 6-10 Simmons and 6-9 forward Tobias Harris, Philadelphia's lineup averages taller than 6-9, with Richardson the shortest at 6-6. It is counterintuitive to the current leaguewide trend toward smaller lineups and perimeter shooting.
"We're going to be strong and set a tone on the defensive end," said the 6-10 Horford. "We have guys that want to do that, and as long as everyone is on the same page on the defensive end, we're going to be trouble."
Last season, the Sixers were 10th in opponents' shooting and 15th in defensive rating. With their bigger lineup, they figure block and alter more shots, and clog passing and driving lanes more effectively.
"They aspire to be an NBA sort of royalty defensively," said coach Brett Brown, who likes what he sees. "And they really are putting their actions and their efforts where some of their comments have been."
Embiid has been a Second Team All-Defense selection for two straight years but has struggled with conditioning. In the offseason, he lost 20 pounds and monitored his diet more closely.
"It wasn't like I was fat. I've never been fat," he said. "This summer was big for me as far as just doing the right things and just making sure I put myself in better situations."
The departures of Butler and Redick appear to have the Sixers lacking perimeter scoring, which will allow opponents to sag their defenses and protect the rim.
However, Horford shot .376 from three-point range in three seasons with Boston. Richardson shot .365 in his last two seasons in Miami. And Harris - who should be a bigger part of the offense this season - has shot .404 over the last two seasons.
There was a stunning occurrence in preseason as Simmons - who takes very few perimeter shots and is 0-of-17 from the arc in his career - drained a 3-pointer in a game. He worked on expanding his shooting range in the offseason.
"I'm more confident with the reps I've been putting in," he said. "If it's open, I'll take it."
There is plenty of confidence among the Sixers, who have not been to the NBA Finals since 2001 or won a championship since 1983. They expect big things this season, both literally and figuratively.
"I sat down with myself and thought about was just what I want out of this game, and that's championships," Simmons said. "That's what I want. I want to win rings."