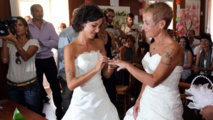 Australia is currently holding a legally non-binding, voluntary postal survey asking 16 million voters whether to change the law to allow same-sex couples to marry.
Of those surveyed, 64 per cent last week said they had voted 'yes' - up four percentage points from two weeks ago. While 31 per cent said they voted 'no' - down three percentage points from two weeks ago, the Essential Poll released on Monday stated.
Five per cent declined to say, according to the opinion survey of 1,792 voters - 86 per cent of whom said they had voted in the national postal ballot.
Meanwhile, both supporters and opponents of same-sex marriage have urged voters to hand-deliver outstanding surveys to the capital city offices of the Australian Bureau of Statistics (ABS) on the last day of the ballot.
"We know many Australians like to work to a deadline - well, that deadline has well and truly arrived," Alex Greenwich, a spokesman for the Equality Campaign, said.
"Today is your last chance to vote," Vote NO Australia campaign posted on its Facebook page.
Last week, the ABS estimated that more than 12.3 million people, or 77 per cent of eligible voters, had participated in the postal survey.
The results will be announced on November 15.